With nearly 60 miles of paved and single-track trail along the Missouri River, River's Edge Trail provides the perfect opportunity for walking, hiking, jogging, skating, cycling, and mountain biking. The paved and singletrack trails encompass spectacular views of the mountains, prairies, river canyons, waterfalls, reservoirs, and five hydroelectric dams while also connecting to Great Falls' historic downtown, numerous parks, dining options, and attractions.
River's Edge Trail Foundation's mission is to provide trails for people to explore Great Falls' outdoor opportunities and to improve the community's quality of life.
River's Edge Trail provides the Great Falls community and its visitors a link to outdoor opportunities and the beauty of the surrounding area. Whether you are looking for a place to just get away for a while, ride a bike, run, visit a park, or go fishing, the almost 60 miles of River's Edge Trail is the place to go.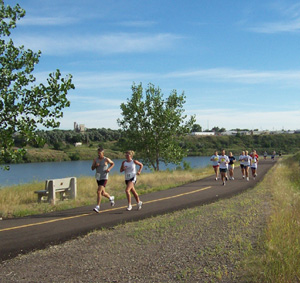 Trail highlights include
18 public art pieces
Panoramic view of Great Falls through a free telescope at the Warden Park Gazebo
Singletrack trails—built to IMBA standards—follow the canyon walls to several of the dams
Up-close views of the five nearby falls of the Missouri
Access to the Lewis and Clark Interpretive Center
One of the world's largest freshwater springs and shortest rivers at Giant Springs State Park
If you are looking for a printed map of the trail, pick one up at the