With nearly 60 miles of paved and single-track trail along the Missouri River, River's Edge Trail provides the perfect opportunity for walking, hiking, jogging, skating, cycling, and mountain biking. The paved and singletrack trails encompass spectacular views of the mountains, prairies, river canyons, waterfalls, reservoirs, and five hydroelectric dams while also connecting to Great Falls' historic downtown, numerous parks, dining options, and attractions.
River's Edge Trail Foundation's mission is to provide trails for people to explore Great Falls' outdoor opportunities and to improve the community's quality of life.
River's Edge Trail provides the Great Falls community and its visitors a link to outdoor opportunities and the beauty of the surrounding area. Whether you are looking for a place to just get away for a while, ride a bike, run, visit a park, or go fishing, the almost 60 miles of River's Edge Trail is the place to go.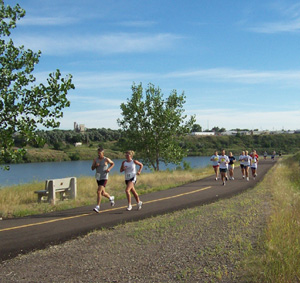 Bike Walk Montana
 is Montana's voice for bicyclists and pedestrians. This statewide group is working to increase funding for bike paths and sidewalks, strengthen bicyclist/pedestrian laws, and create safer communities and roads. Get involved. Join today.
Great Falls Bicycle Club organizes rides year-round on the River's Edge Trail, the Mayhem singletrack, and in the Great Falls area. Rides appeal to cyclists of all abilities, from twice-weekly training rides to no-rider-left-behind mountain bike rides every Wednesday. Regular updates about planned rides available by joining the GFBC Google Group.
MTBProject in partnership with IMBA – the next generation of Mountain biking trails.
Race Montana organizes and hosts numerous races and fun runs during the year in north central Montana. Many RaceMT events use portions of the River's Edge Trail.
GrrAnimals Running Club is part of RaceMT/Road Runners of America. They run Tuesday/Thursday at 6am regardless of weather. Tuesday is speed/agility. Thursday is hills/strength. No runner is left behind. Club also. Weekend activities include skating, skiing, bike rides, cross-training, and long runs. Request to be on text list for these. Dan Hodson (406) 564-8046.
Blister Sisters and Misters is a low-key running group. Sunday mornings, 6- to 12-mile group run. Call or text Wendy Lee at (406) 868-1854 or wlee@racemt.com
Wednesday Night Runners  Summer months; Wednesday nights only; meet at Access Fitness West lot at 5pm for 1-hour group run/hill repeats. Winter months; Mondays, Wednesdays, and Fridays; meet at CMR High School 3rd floor at 5pm for 1-hour stair repeats. Details: Branch Brady (406) 788-2871.
River's Edge Runners  Facebook site for posting group runs.
Treasure State Trail Runners Facebook site for posting trail runs and ultra-endurance training. Kameron Kidrick (406) 799-4508
Get Fit Great Falls is a coalition of like-minded people who encourage the community to get active and make healthy choices. GFGF encourages integration of physical activity, such as walking, bicycling, hiking, swimming, and jogging, into our daily routine.
The Montana Wilderness Association has a number of Winter Wilderness Walks scheduled from January through March on trails near Great Falls. The Summer Wilderness Walks schedule is available by mid-April, and hikes run April through October.
The Lewis and Clark Interpretive Center has a full slate of events and programs. Walk or ride out to the Center for a "Star Party" or a "Riverside Voices" program in the outdoor amphitheater.
Cascade Conservation District works on trail projects that include cleanup of riverfront lands, weed control, tree planting, and other maintenance and enhancement projects.
Since 1989, when the trail was just an idea on a drawing board, a team of dedicated community members has worked to make it the award-winning urban trail it is today. The River's Edge Trail Foundation is a volunteer nonprofit corporation that works with agency partners to develop, extend, and maintain River's Edge Trail. A key role of the Foundation is raising money for the Applicant Match required on important trail grants. Between 2015 and 2017, approximately $225,000 of private donations are leveraging $4.6 million in grants to design, construct, repair, and maintain River's Edge Trail.
River's Edge Trail Foundation promotes development, ensures maintenance and encourages utilization of the River's Edge Trail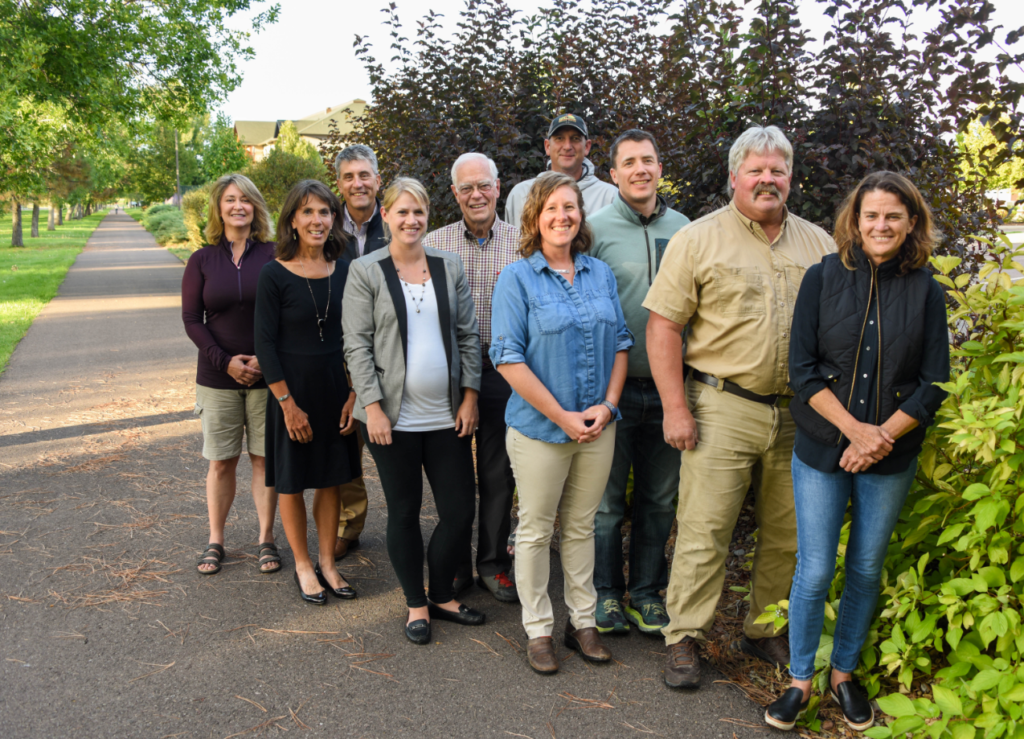 Meet the River's Edge Trail Foundation Board Members
Debbie Corn: Treasurer, Becky Nelson, Ron Nelson, Sarah Yoder, Chuck Jennings, Erin Madison Granger, Steffen Janikula, Anders Blewett: President, Steve Beaumont, Sheila Kelly: Secretary, .
*not shown Alex Huffield
City of Great Falls Park and Recreation Department
manages and maintains the trail on city-owned land and on trail easements held by the City. They can be reached at 1700 River Drive North (406) 771-1265.
City of Great Falls Planning Office plans new trail and bike/pedestrian facilities and takes the lead responsibility for managing and executing state and federal construction contracts, processing trail easements, and coordinating agency and volunteer improvements and extensions. They can be reached at the Civic Center 2 Park Drive South (406) 771-1180.
Region 4, Montana State Parks operates and manages portions of the trail that pass through Giant Springs State Park, PPL Montana lands on the north and south shores, and Black Eagle Memorial Island. They can be reached at 4600 Giant Springs Road (406) 454-5840.