ABOUT
the trail & foundation
Stretching almost 60 miles along both sides of the Missouri River, River's Edge Trail provides the perfect opportunity for walking, hiking, jogging, skating, cycling, and mountain biking. The paved and singletrack trails encompass spectacular views of the mountains, prairies, river canyons, waterfalls, reservoirs, and five hydroelectric dams while also connecting to Great Falls' historic downtown, numerous parks, dining options, and attractions.
The River's Edge Trail Foundation's mission is to provide trails for people to explore Great Falls' outdoor opportunities and to improve the community's quality of life.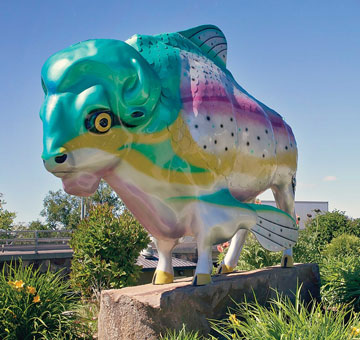 FEATURED
events & happenings
Save the TaTas Run
July 17, 2020
9:00 pm
http://racemt.com/events/save-the-tatas/
DATE AND TIME:
Join us for a fun 5k (approx.) run/walk or a 1 mile Walk to benefit Benefis Sletten Cancer Institute, Circle of Hope. Yes, the runs start at 9:45PM! Put on your best glow "bling" and favorite pink attire—socks, hats, shirts and tutus. T-shirts/swag not guaranteed after 7/2.
LOCATION/ROUTE:
Run starts at Broadwater Bay in Great Falls, MT and heads South along the River's Edge Trail, up to the top of flag hill, around the loop twice then back to Broadwater Bay.
The trail will be lit with glow ...
More
59°
Mostly Cloudy
07:4718:33 MDT
Feels like: 58°F
Wind: 10mph SW
Humidity: 31%
Pressure: 29.5"Hg
UV index: 1
65/42°F
53/39°F
50/34°F
50/33°F
52/42°F