ABOUT
the trail & foundation
Stretching almost 60 miles along both sides of the Missouri River, River's Edge Trail provides the perfect opportunity for walking, hiking, jogging, skating, cycling, and mountain biking. The paved and singletrack trails encompass spectacular views of the mountains, prairies, river canyons, waterfalls, reservoirs, and five hydroelectric dams while also connecting to Great Falls' historic downtown, numerous parks, dining options, and attractions.
The River's Edge Trail Foundation's mission is to provide trails for people to explore Great Falls' outdoor opportunities and to improve the community's quality of life.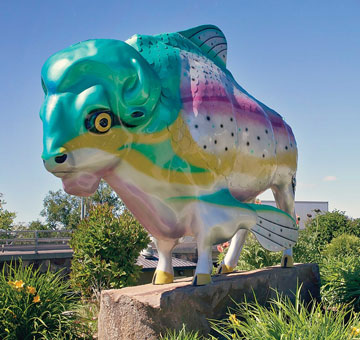 FEATURED
events & happenings
Count Your Clover Pub Run
March 17, 2018
4:00 am - 8:00 am
215 3rd St NW, Great Falls, MT
http://racemt.com/event/count-your-clover-pub-run/
Count Your Clover Pub Run 5k
Sunday – March 17th, 2018 @ 11:00 a.m.
Race start: The Front Brewing Company
215 3rd St NW
Great Falls, Montana

Online Registration 

Race: 5k
Entry Fee is $25 for those 18 & over, $20 for those under 18
Add $5 for race day entry. (Proceeds to benefit the UGF XC/Track teams.)

Send form and fees to:
Count Your Clover Pub Run 5K, c/o UGF XC & Track
1301 20th St. South, Great Falls, MT 59405 (Make checks Payable to University of Great Falls)
For questions, email: bill.brist@ugf.edu
Men's and Women's Age Groups: 8 & Under, 9-12, 13-18, 19-29, 30-39, 40-49, 50-59, 60 & Over. Tee Shirt Sizes guaranteed to entrants that pre-register by Feb 25th, 2016.

No refunds / No Weather cancellations
RACE PACKET PICK-UP: Packet pick up for pre-registered ...
More