River Drive South Re-alignment. A Triumph of Patience, Persistence, and Participation
Since the early 1990s, representatives from the River's Edge Trail Foundation, City of Great Falls, and community outdoor advocacy and tourism groups have struggled to find a safe, efficient, cost-effective way to route the River's Edge Trail along River Drive South.
Unlike the current path which winds past the Electric City Water Park and through the police station parking lot, the solution had to be simple and easy for trail users to navigate. It had to be considerably safer than the current option of traveling on a path that includes four roadway crossings and two active rail line crossings, all with little to no wayfinding markers. In addition, the solution needed to be practical from the standpoint of engineering design and funding options.
After years of site visits and stakeholder discussions, it became obvious that only one approach could work: build the trail between the river and the roadway from Broadwater Bay to Tourist Park downstream. Difficult? Yes. Complicated? Yes. Expensive? Yes. Best option? Yes.
In 2013, the River's Edge Trail Foundation commissioned a $16,000 comprehensive site evaluation from TD&H Engineering.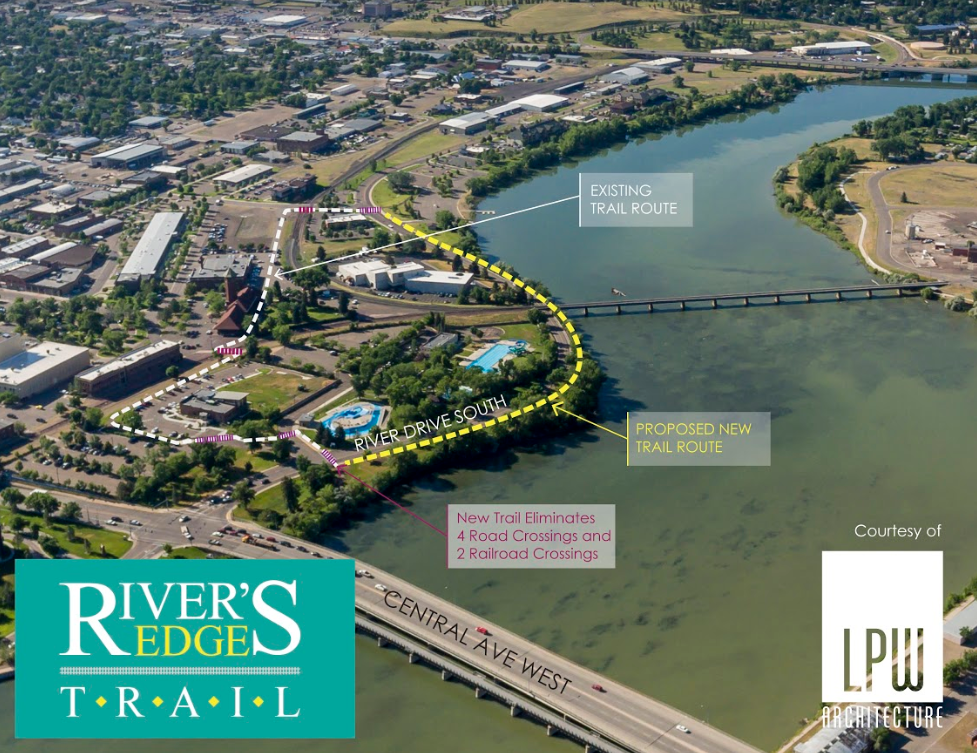 Those designs call for the construction of a new connector trail along the river from the Broadwater Bay Boat Launch to the BNSF Bridge, where the trail will travel out and around the roadside bridge support pier next to River Drive South and rejoin the existing trail located in Tourists Park downstream from the bridge. The path around the bridge pier will be accomplished via an elevated concrete "river wall" topped with a 10-foot-wide trail surface. It will be much more functional, more scenic, and more direct route connection between the upstream and downstream sides of the rail bridge…but at a cost.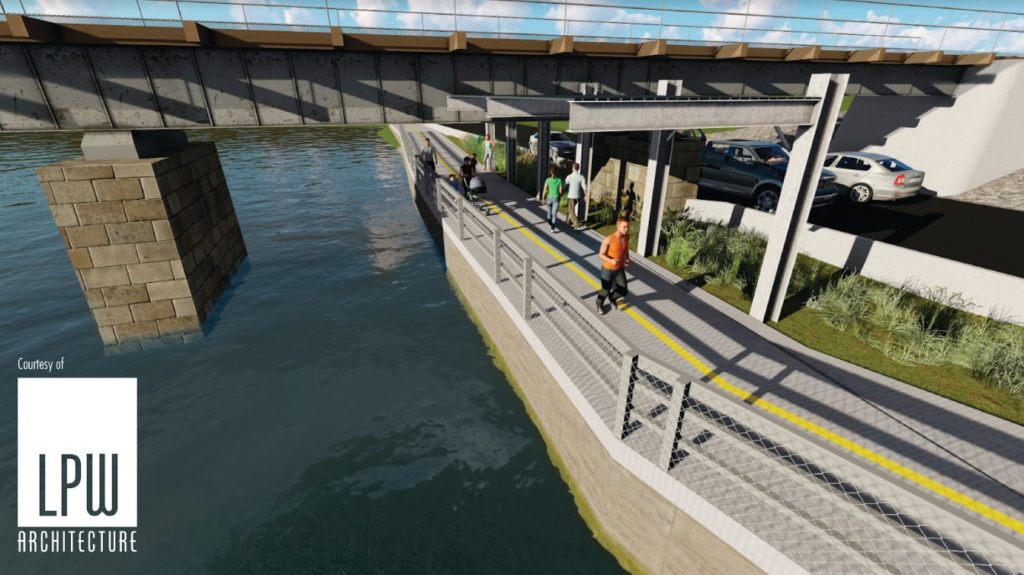 Estimates put the price tag at $1,900,000. City Planning has identified a Federal Congestion Mitigation and Air Quality (CMAQ) grant to fund the project. Securing that grant requires a commitment of approximately $250,000 in matching funds. With the City unable to extract that amount from already tightly managed budgets, RETF offered to attempt to raise that amount in donated funds to get the project underway. RETF approached SCHEELS of Great Falls and SCHEELS All Sports Foundation as a donor for matching funds. Their response was to offer a matching grant option of $125,000, on the condition that the remaining $125,000 be raised by December 2018. Working with SCHEELS Store Leader, Peter Phillippi, we were able to gather the required $125,000 in donation pledges from businesses and community leaders in about 45 days. On November 9, 2018, the Rivers Edge Trail Foundation issued a formal commitment to provide up to $250,000 in matching funds to initiate and complete the River Drive South Trail Re-alignment project.
RETF has been successful in building the River's Edge Trail system because we have the active donor support available that is required to move projects forward.
Thank you to the matching fund donors: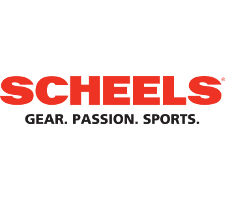 SCHEELS Store Leader, Peter Phillippi: local SCHEELS Supervisors and SCHEELS All Sports Foundation
D.A. Davidson & Co.
First Interstate Bank
First Interstate Bank Foundation
Parks and Recreation Department
Owen and Gayle Robinson
Johnson Madison Lumber
Steel Etc
TD&H Engineering
Pacific Steel & Recycling
JCCS
Bruce Pollington and Roxanne Klose