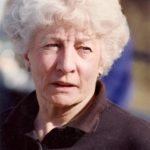 All of us on the River's Edge Trail Foundation Board are saddened by the passing of Dorothy Brown.
Dorothy Brown was truly the Mother of River's Edge Trail! She jumped right in at the very beginning and helped do what needed doing. Whether it was cleaning decades of debris from the former railroad corridor or staffing RET product and information booths at numerous Luminaria Walks, Blues & Brews and other community events, she was there. Dorothy was always eager to do what she could to expand the trail's reach. She is also responsible for encouraging artist Nathan Bread to create the beautiful steel rod Grizzly sculpture in West Bank Park, as well as funding the many loads of rod needed to complete the project. From the beginning forward, she worked tirelessly to make the River's Edge Trail what it is today.
On top of all this, Dorothy was the Secretary of River's Edge Trail Foundation and took her job very seriously, which kept us on track in those early years when everything seemed to be happening at once.
For her dedication to expanding the trail's reach and her kindness towards all she met, Dorothy will truly be missed.
Read Dorothy's Obituary
Any Honorarium can be sent to the Trail – P.O. Box 553, Great Falls, MT 59403-0553 or donate online
Have a great story to share about Dorothy? Share it on our Facebook page